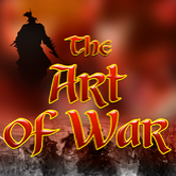 The ultimate analysis of Sun Tzu's famous work, The Art of War.
The first video treatment on Sun Tzu´s Art of War
A totally comprehensive treatment and analysis of the Art of War on Video
A "must have" for any study of The Art of War
THE ART OF WAR has been successfully adopted to all forms of warfare, business, sport, law and politics. It has transformed people´s lives by providing them with the key resources needed to unlock success.   For the first time The Art of War is now presented on video, featuring some of the world´s foremost experts as the secrets of this astonishing work are explained and revealed.
The concepts are timeless… and they work.
The Art Of War App Link
https://itunes.apple.com/in/app/sun-tzus-art-of-war/id704210953?mt=8